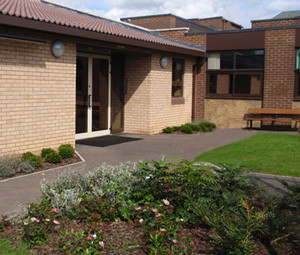 Meadowside Primary School provide continuous education for children from the age of 4 years to 11 years and information and facilities for families of children 0 to 5 yrs.
Up until July 2014 Meadowside Children's Centre was managed by the school. Northamptonshire County Council made the decision to pass the running of children's centres to private providers. The Children's Centre on our site is now run by Action for Children.
The school and a separate children's centre are situated in the residential area on the west side of the town centre and were built in 1970 and extended in 2007 to accommodate the growing population of Burton Latimer.
Our school, Children's Centre and Before, After School and Holiday Club (run by MASC) work closely together to ensure all children and families have the opportunity to develop their true potential throughout their time with us.
Our children have the opportunity to learn from first hand experience and extend their knowledge, skills and understanding through a range of activities including out-of-school visits and specialist visitors into school. Children are offered a broad, balanced education in order to stimulate their interest and imagination. We welcome visitors to our school to enhance experiences and learning.
A variety of teaching skills are used which acknowledge the ways in which individual children learn. Sometimes the whole class is involved in discussion or instruction, a small group of children may work together or children may learn individually. Each day is a balance of practical activities, investigation and recording.
How are the classes organised?
The classes are organised into year group teaching units. There are two classes in each year group and children are taught in separate year groups. All classes include mixed abilities of children, with a balance of gender.
Each class has a class teacher who is responsible for the organisation, planning of lessons, monitoring and progress of the children in their class. Classes may have the opportunity to be taught by another teacher for some subject areas. Teachers use a range of teaching styles and organisation within class, year group and individual work programmes to cater for the different learning styles and needs of pupils in their class. Teaching assistants, under the guidance of teachers, work with individuals and groups of children in each class. Our Pastoral Support Advisor works witth children and families to support a range of issues such as behaviour, attendance or social and emotional concerns.
As a staff we share our expertise and skills to give maximum benefit to the children in our school.
Caring for all abilities
Our school works within a national Code of Practice. We believe that all children have individual needs and recognise and understand that some children may experience difficulties at some time during their educational career. At our school we ensure that children are supported through any difficulties they may have and we work closely with parents/carers to ensure that every child's individual needs are met. Our inclusion manager and teachers liaise closely with families, and where necessary outside agencies, to provide appropriate support and guidance. We consider the active involvement and full support of parents/carers to be essential to the progress of all the children in our school.
Each individual within our school is equally valued and encouraged to make the most of all the opportunities offered. The staff and governors seek to promote equal opportunities for all, regardless of gender, disability, religion, ethnic origin or background. Our school site provides disabled access and our Accessibility Plan is reviewed regularly.
Can my child have music lessons at school?
All children are taught music as part of the National Curriculum. Key Stage 2 children are offered the opportunity to learn a variety of instruments from specialist teachers including guitar, violin, clarinet and flute. As part of our wider opportunity funding we offer some instruments to larget groups or whole year groups e.g. this year Year 4 have been undertaking a Brass Project as a part of our First Access scheme.
There are charges for the service provided by the Northamptonshire Peripatetic Music Service.
What extra curricular activities are available?
We consider these activities, which are provided by outside providers, teachers and teaching assistants in their own time, to be a valuable part of our schools' provision. These are not normally available to Reception children. A charge may be made for some clubs.
Children are offered the opportunity to participate in a wide range of activities, which may include sports, music, craft, cooking, street dance, choir, orchestra, board games to name but a few. Clubs may vary each term and parents/carers and children will be advised accordingly. Professional sports coaches offer a range of clubs throughout the year, weekly charges are made for these.
What child care facilities are available before and after school?
We run our own Breakfast, After School and Holiday Club. More details can be found under the Parent and Carers section of the website under the heading, 'Meadowside After School Club.'
What facilities are available for parents and families of younger children?
We have links with the Children's Centre which is part of our learning community. We provide facilities, information and activities for families of pre school children in Burton Latimer and Barton Seagrave and this is open throughout the year. Activities for both children and parents/ carers are organised monthly. Further information can be obtained from the Children's Centre reception.
What are your lunchtime arrangements?
We have a number of experienced lunchtime supervisors to care for our children whilst they eat and play, ensuring that lunchtimes are safe and happy times for all our children.
Hot Lunches
Nutritious hot lunches, cooked on site, are available to order each week. The menu is shared with parents/carers and there is a choice of meals every day. More information can be obtained from the school office.
Packed lunches
If you wish your child to stay at school and eat a packed lunch, we ask that it should provide a balanced, healthy midday meal for an active child. In support of our Healthy Schools Policy, we do not allow children to bring fizzy drinks, sweets or solid chocolate. For safety reasons, glass bottles and cans are not allowed. Water is available at school, or children may bring their own drink in a watertight container. Information and ideas for packed lunch are available from reception.
Home lunches
Children who go home for lunch should return to school between 12:50 and 1:00 for both key stages.
For fire safety reasons, all children should be signed out at the main office on leaving the school premises and signed in when they return.
I think my child may be entitled to Free School Meal
Please contact either school office in confidence to obtain further details.
What about playtime snacks?
Under the National School Fruit Scheme, all children in Foundation Stage and Key Stage 1 receive a free piece of fruit or vegetable each day to eat at playtime. In Key Stage 2 fruit and vegetables can be ordered at a small cost or children may bring their own fruit from home. No other snacks are permitted. Snack arrangements for Reception children are different, please refer to the information in the Welcome Pack.
Can my child have drinks throughout the day?
It is important that children have access to water throughout the day. We have filtered water coolers fitted at various points throughout the school. Children have water bottles in their classrooms, allowing them access to water throughout the day. Key Stage 2 children may bring their own small refillable water bottle or bottles are available to purchase from the school office.
Milk is provided free to under fives and at a subsidised rate for children in Year 1 and Year 2. Information can be obtained from the school office.
Other drinks are only allowed at lunchtime.
What are the school hours?
| Session | Times | Applies to |
| --- | --- | --- |
| Morning sessions | 8.55 a.m. – 12.00 noon | Whole School |
| Afternoon sessions | 1.00 p.m. – 3.15 p.m. | Whole School |

In the morning, the gates to the playgrounds open at 8.40a.m. School will be open from 8.45 a.m.; all children should be in school by 8.55 a.m. so that registration can take place promptly at 9.00 a.m. We have a duty of care towards our children, which means that we will look after them during school hours. We do not expect children to arrive at school before 8.40 a.m. Breakfast Club is available for those parents/carers who wish to leave children before this time depending on whether MASC have places - please check and book in advance.
We recommend that all Foundation Stage/ Key Stage 1 and younger Key Stage 2 children are accompanied to school by a parent/carer or known responsible adult, and met again at the end of the school day. Parents/carers are very welcome to wait on the playgrounds from 3.10pm onwards.
If parents/carers are meeting children from both Key Stages, it is recommended that parents wait on the FS/KS1 playground, allowing the older child to walk around to meet them there. FS/Key Stage 1 staff always bring younger children up to the playground to meet their parents. Parents may exit from either the KS2 gate or the main entrance gate. After School Club is available from 3.15 to 6pm subject to places being available.
What if my child is late for school?
We do expect all children to arrive at school in time for the start of the school day. However in the exceptional circumstance that your child is late arriving at school, please take them to the main school entrance. Our school is a safe and secure site and gates are locked during the school day, with the exception of the main entrance.
The playground and KS2 front entrance gates are secured at 9.00a.m. All visitors and parents/carers should use the main school entrance to access the main school office.
Repeated lateness will be monitored and discussed with parents/carers.
What if my child is absent from school?
If your child is absent from school, please let us know by 9.15 a.m, by telephoning and leaving a message on the 'reporting my child's absence' option 2. If your child is absent and we have not been notified, we will contact you, as we have a legal obligation to account for all absences. Only the head teacher can authorise absences, and if no reason is given, the absence will be recorded as unauthorised (truancy) and must be legally reported by the school. Absences will only be authorised if there is a good reason. A letter should be sent in on your child's return to school.
If your child is unwell, it is in the interest of your child as well as other children and staff that he or she should be kept at home until well again. In the event of an infectious illness, it is important that the children do not return to school until advice has been obtained that the illness is no longer infectious and the child is well enough to return. In the event of your child becoming ill at school, we shall contact you to arrange for your child to be collected.
Grant for leave of absence during term time in very exceptional circumstances.
The school term dates are published 2 years in advance and are also available on the school website and the Local Authority website.
If a family feels leave in term time is unavoidable for exceptional circumstances, a form for a request for term time absence must be completed. This can be obtained from the school office or can be downloaded from our website.
Parents have a legal obligation to ensure their child is in school during term times. No parents can demand leave of absence for their child as a right. Term time absence for the following reasons will not be authorised (as indicated by the Department of Education).
Availability of cheap holidays
Availability of desired accommodation
Poor weather experienced during the school holiday periods
Overlap with beginning and end of term
The head teacher will decide whether or not to authorise a term time absence request for exceptional circumstances, (further details can be found in the school attendance policy - available here from the website or at the school office).