Our School
Governor Profiles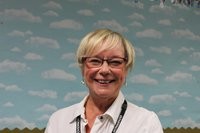 Angela Pratt : Chair of Governors
I am passionate about learning and believe that schools play an important role in a child's life. I am delighted to have been elected as Chair of Governors at Meadowside Primary, my local school. I see this role as both a support and critical friend to the school that ensures all children are given the opportunities and experiences that will enable them to become independent and fulfilled young people.
I have valuable leadership experience having been a headteacher for over 10 years at a successful Primary school in Northampton. I have worked with schools in challenging circumstances and led school improvement activities in both my previous school and others in the locality. As I am now retired, I have the time to devote to my role as Chair of Governors and I am a regular visitor to the school. I keep up to date with educational policy and practice through reading and marking leadership assessments for a national organisation.
---
New Intake 2022
Thank you for showing an interest in joining us at Meadowside Primary School for 2022/23 in the Foundation Stage. Below you will find our prospectus and a selection of videos which provide an insight about how our EYFS classes work and provide an opportunity for you to have a look at the facilities.
We will be holding school tours for children starting school in September 2022, and a parent Open Evening on 13th October. Please click on the document 'Open Evening and School Tours' below for further information on how to book your place.
If you have further questions, please do not hesitate to contact the school office.
Here are some welcoming videos from our staff and to show you a little about Reception when you join us.
Videos
Year 4 Knowledge Organisers